As a therapist, you want to see your clients reach their full potential. iLs has the training, equipment and research to help you and your clients get there.
The iLs methodology integrates music, movement and language exercises for the purpose of improving brain function. iLs programs are designed to be fun, and may be used on their own or in conjunction with other methods.
We train for brain/body integration through a staged approach, starting with the fundamentals of sensory integration and then extending through more complex cognitive functions, including language, self-expression and social skills.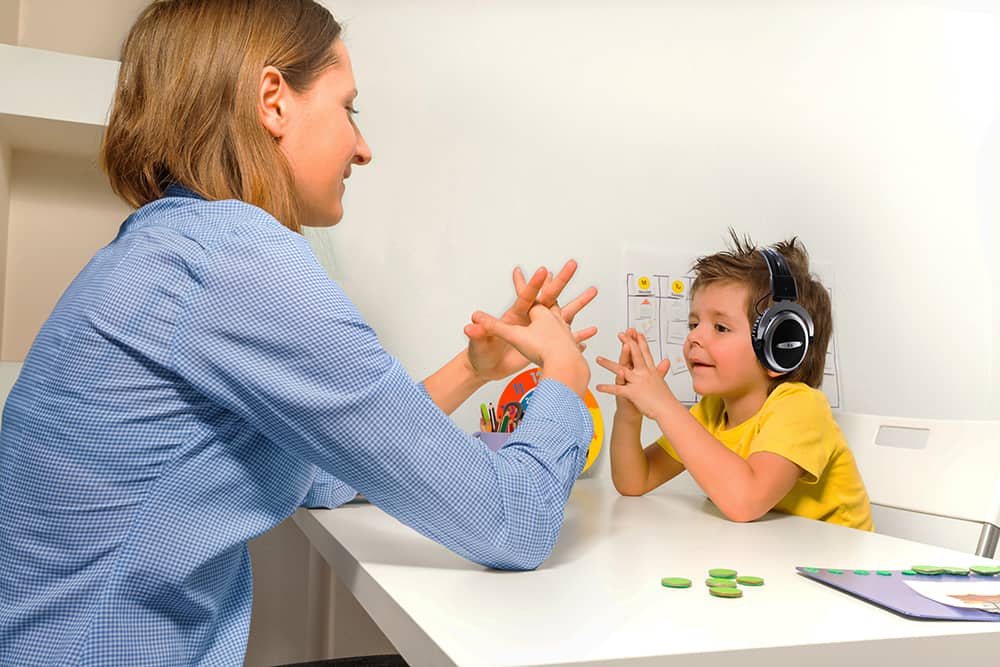 WHAT iLs DOES FOR CLIENTS:
– STATE REGULATION: developing the ability to control both physiological and emotional state
– SENSORY INTEGRATION: overcoming sensory sensitivities and being able to process and integrate sensory input
– LANGUAGE PROCESSING: improving auditory processing, as well as receptive and expressive language skills
– SOCIAL ENGAGEMENT/BEHAVIOR: developing system integration and self-regulation for self-expression and successful social interaction
See below for case summaries and videos about how iLs addresses specific symptoms.
"iLs came around and we thought, 'Oh, my goodness, this is what we've been looking for. This is that magic tool in our kit.'"
– Jill Sengbusch, iLs Practitioner, MA/CCC-SLP
Clinical Applications
The multi-tasking required with adding iLs as a therapeutic modality is more intensive within a shorter time frame and progress can come at a much faster rate.
A variety of clinicians incorporate iLs into their practice because it provides a means to enhance sensory input while continuing to address targeted goals, increasing attention and focus with directed tasks.
Speech and Language Therapy, Audiology
Occupational Therapy
Physical Therapy
Education
Medicine & Nursing
Psychology & Counseling
Psychiatry
ADHD Coaching
Applied Behavioral Analysis
DIR Floortime
We are pleased to invite you to our September trainings in Europe!
Activate multiple sensory systems to help your clients achieve their full potential. The iLs Foundations & Implementation course covers centers of the brain, neuroplasticity and the theories on which multi-sensory therapy is based.
Then we go hands-on with the iLs Focus 30 and 60, Playbook activities and case studies. After this 8-hour training, you'll immediately be ready to use iLs with your clients.
Our centers consistently see excellent results with iLs with regard to attention and learning problems. iLs works at a neurological level so it's a great complement to the behavioral, cognitive and medical approaches we use at Hallowell Centers... Even the best therapy only works if you actually stick with it, so the fact that iLs is not only effective but is fun and can be done at home makes it extremely appealing.

Harvard Medical School faculty, child and adult psychiatrist, author and ADHD expert

Letter to iLs: I've been using the iLs program in our school for two years, and have seen good results with my students. The results range from increased confidence and coordination, to improved social skills, and very distinct improvements in reading and overall academic skills. Recently I've been working with a little boy in 2nd grade who shows signs of autism. He has been making good progress with the iLs program. He will now look the speaker in the eye when talking with another person, which he didn't do at the start of the year. He also is quite a bit more coordinated, and more social since starting the program. I have been very pleased with the affects of the Integrated Listening System. Thanks so much!

educator

As a pediatric occupational therapist who has been practicing for over 25 years, I am continually amazed at the effectiveness of the iLs equipment with children on the autistic spectrum, who have sensory integration disorders, language based and non-verbal learning disabilities as well as other developmental delays. This equipment facilitates growth and development in the areas of motor skills, language/communication and social skills at a greater rate than any modality I have used. It is also a pleasure being associated with the Center for Inner Change, iLs' "sister company", and the Minsons, who offer a wealth of knowledge and experience with care and integrity. I would recommend the iLs training and equipment to any practitioner who is interested in developing their practice with this exciting, state-of-the-art technology.

Project CHILLD, MA

At STAR Center our therapists use iLs for a few key reasons: it can be customized to each individual's needs, the bone conduction delivery is a wonderful vestibular supplement, and the quality of the music is remarkable... We have seen tremendous developmental growth spurts using iLs in combination with OT. iLs combined with OT seems to accelerate or "jump start" many of the children's developmental changes. It also can have a calming effect on some children which makes it easier for our therapists to work with the child. In general, we see accelerated gains by adding iLs to OT… We use it with most of our children in clinic and we often send clients home with an iLs Focus system for continuation of therapy once their intensive short-term program is complete.

author of Sensational Kids, Founder of SPD Foundation
AUTISM: Maggie's Story
We figured that she would have to be in therapy for a while and that she maybe wouldn't even be in mainstream school. But she's doing great! Nobody even knows that she's autistic, except her teacher. – Lisa McDonough, Maggie's Mother
Maggie was almost 3-years-old and presented severe deficits with social-emotional engagement, accepting communication attempts by others and closing circles of communication.
Maggie was easily overwhelmed and frustrated by daily activities; she did not transition smoothly from one activity to another, and lacked confidence with new environments and new tasks. She also lacked independence, was "needy," impulsive and had low self-esteem. She had poor short-term memory, could not sequence tasks, and often failed to begin or complete tasks unless assistance was provided.
iLs Focus Sensory-Motor program sessions 1-60 were used at a frequency of three sessions per week for a period of five months.
Results:
These days, Maggie is functioning socially in a regular classroom without support and evidences of symptoms of an autism spectrum disorder.
Maggie has progressed from being a child with severely impaired communication and social skills to functioning at a typical peer level.
ADHD: "K's" Story
"K" is a 12-year-old boy with attention, motor and social difficulties. His parents described concerns in his ability to verbalize his thoughts, to independently complete work and manage his emotions. They also observed motor tics and poor gross motor coordination. Later, he was diagnosed with ADHD and Asperger's syndrome. He was prescribed medication for the ADHD.
The iLs Program was completed as a home program with in-clinic treatments every other week. The iLs Concentration and Attention Program was 5 months.
Results:
After three consecutive years of using stimulant medications to control the symptoms of attention deficit disorder, K's parents are relieved to no longer rely on medication; K is making honor roll with A's and B's.
K's parents also report progress in multiple areas, including his ability to complete school work without their assistance, confidence in expressing ideas in conversation, overall control of his body and greater participation in school.
LEARN HOW iLs CAN BE INCORPORATED INTO YOUR PRACTICE BY REGISTERING FOR ONE OF TWO TRAININGS IN EUROPE.
iLs is an American Occupational Therapy Association Approved Provider of continuing education. AOTA does not endorse specific course content, products, or clinical procedures.
iLs is an International Institute of Credentialing and Continuing Education Standard; Certified Autism Specialist Credential approved provider.