PURPOSE
We help transform the lives of children, youth and adults everyday.
Manage stress and thrive. Improve brain function. Gain greater confidence.
MISSION STATEMENT
Our mission is to guide every person to train their nervous systems to be more aware, regulated and resilient so they can feel safe, happy and healthy and more effectively respond to life's challenges.
Our Company
Our mission is to create and acquire a suite of effective mind-body solutions that will guide tens of millions of people to happier, healthier and more meaningful lives. Our programs help achieve this by improving brain function, body organization and emotional resilience.
Today, our suite of products and programs consist of the Safe & Sound Protocol (SSP), The Focus System, Interactive Meditation, Dreampad and Voicepro, supporting both health professionals and their clients, as well as families and individuals.
Our community has grown to more than 10,000 professionals in over 50 countries, serving hundreds of thousands of children, youth and adults globally.
More
Unyte has deep roots in two distinct modalities of therapy: sound and movement.  Many of the techniques we use for treating music were developed decades ago in Europe, where sound therapy was used effectively to help those with attention and reading difficulties.  By focusing on specific frequency bandwidths, therapists discovered they could improve function in three critical areas required for learning:  sensorimotor function, language and attention/motivation.
The sensory and movement component of our Focus System was developed from research showing the positive effect of balance, coordination and visual exercises used on children's ability to learn.  As we have progressed over the years, we have found that the effect of specific movement activities extends to the cognitive function and emotional health of adults as well as children.
Our language component, the VoicePro™, employs unique audio technology and is the first language program to integrate expressive language exercises with movement.  Our ability to process information, plan thoughts, and express them is intertwined with the areas of the brain involved in movement and balance.  By exercising these interconnected areas at the same time, we are able to increase 'transference', i.e. transfer the improvements beyond the clinical setting to the real world.
Our programs are customizable for all levels, setting in motion an upward spiral of confidence and success as clients progress through the program.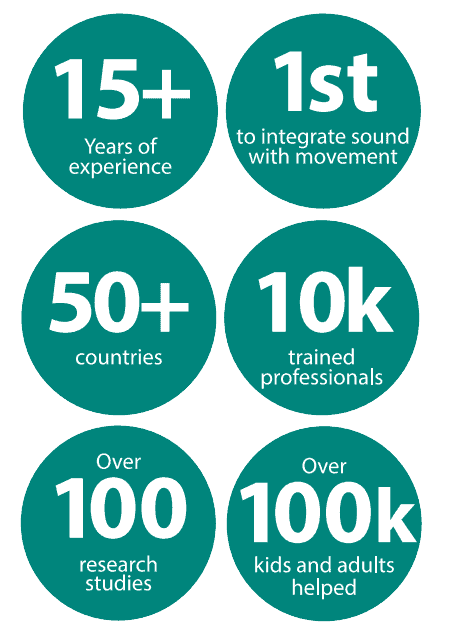 Management Team
Jason Tafler, CEO
Anthony Kanfer, CTO
Dr. Stephen Porges, Chief Scientific Advisor
Ron Minson, MD, Clinical Director & Advanced Trainer
What is Unyte-iLs?
Unyte-iLs works directly in partnership with health care professionals, families and individuals to help guide every person to train their nervous system to be more aware, regulated and resilient.
Programs include music, movement, breathing, meditation and language exercises, nourishing the nervous system to enable a change in physiological state to feelings of safety and calm.
How can providers explain the Unyte-iLs Programs?
We've compiled a list of resources to make it easier to explain Unyte-iLs to your clients and colleagues.
Denver Office
8392 S. Continental Divide,
Suite 105,
Littleton 80127
Toronto Office
229-639 Dupont Street, Toronto, ON M6G 1Z4