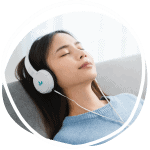 Why a subscription model for Unyte Health Programs?
Transparency is important in any therapeutic relationship. That is why we find it important to be clear about the subscription model of the Safe and Sound Protocol (SSP) and Integrated Listening System (ILS), which is a requirement for ongoing use after becoming a certified provider. Rest assured, we value openness and clarity in our approach and welcome feedback or questions at any time.
What makes the SSP and ILS unique, and unlike the training-only or knowledge-based therapeutic approaches it complements, is that the SSP and ILS utilize technology for the non-invasive delivery of an evidence-based, filtered music intervention in the context of a therapeutic process to improve health outcomes.
The SSP and ILS use patented, specially filtered music designed to stimulate the vagal pathways in the nervous system, promoting autonomic regulation and social engagement. These programs are delivered in the context of a therapeutic relationship, grounded in safety and co-regulation. 
This innovative approach is delivered through over-the-ear headphones and via digital platforms, including MyUnyte and the Unyte-iLs app, allowing providers to target the autonomic nervous system and help clients improve autonomic regulation, sensory processing, mental health, and overall well-being. 
With the SSP and ILS' digital elements, providers can access the specially filtered music and the latest research updates, track client progress, and offer ongoing support, ensuring a more effective and dynamic therapeutic experience for both provider and client.
Why a Subscription?
In general, a subscription makes sense whenever there is a product and/or technology that is dynamic and requires continuous improvement and updates. As such, it is critical to always have the most up-to-date version.
The SSP and ILS operate in a dynamic environment with daily learning and iteration. As such, the SSP and ILS are constantly being updated — be it the training, product features, the MyUnyte platform and the Unyte-iLs app, resources, playlists, or other elements. Because of this, combined with the therapeutic potency of the SSP and ILS, it is critical that providers always have the most up-to-date version of the program and training.
If we instead offered the SSP and ILS as one-off purchases, every provider would have a different version, and many would have significantly older versions not reflective of the latest learning, technology and research. This is why a subscription model makes sense.
The subscription also ensures that providers and their clients have ongoing access to the full range of benefits and support provided by these programs.
In summary, a subscription to the Safe and Sound Protocol (SSP) or Integrated Listening System (ILS) ensures continuous access to the latest version of the program and associated playlists, resources, ongoing support, progress monitoring, flexibility and research. It allows therapists and clients to maximize the benefits of these programs over an extended period, leading to transformative and long-lasting outcomes.
Begin your journey with Unyte Health Programs
I'm a therapist, counselor, or healthcare provider/professional.
I'm interested in tools for my practice or clients.
I'm looking for a provider.
I'm seeking support for myself and/or my family.