Clinician:
Andrea E. Sywulak, Ph.D., Clinical Psychologist
Practice:
Sywulak & Weiss Psychological Associates, LLC
Presenting Problems:
The client, "T" was diagnosed at 7 years of age with ADHD by a neurologist and medicated with 25 mg. of Strattera. Although medication did improve his attention and focus, T was brought to treatment at age 11 by his parents who were concerned about his temper outbursts which often resulted in physical assaults of others or property damage. T was very resistant to psychotherapy, though made some progress in Child Centered Play Therapy and later Brainspotting to directly address his angry outbursts. His mother completed a Sensory Processing Disorder Checklist for adolescents. It was noted that T had significant sensory issues in all areas.
Therapeutic Goals:
To improve attention and concentration and to improve emotional regulation.
iLs Programs Used:
All four programs of the iLs Total Focus were used over 15 months. T completed three-to-four home sessions per week and one clinic session per week.
Because of the many and varied sensory motor issues reported by his mother, T started with the Sensory Motor Program, bridged over to the Concentration and Attention Program, and continued to the Reading and Auditory Processing Program, taking a two-week break in between to consolidate gains. Following an excellent report from T's pediatric neurologist while not on medication, the parents had him finish with the Optimal Performance Program.
Other Interventions Used:
While in the office, the first 15 minutes of our session was devoted to listening and completing iLs Playbook exercises. While continuing to listen, T and his parents participated in family systems psychotherapy to address issues of self-esteem, structuring, and limits and consequences.
Summary of Changes:
Because T was being followed by a pediatric neurologist who administered the Quotient® Test for ADHD, we have objective evidence that documents T's changes starting with a baseline before medication, while on medication, and following completion of iLs Programs while T was non-medicated. The Quotient® ADHD System Index is a computerized test that measures 19 indices, six for motion and 13 for attention. Integrated composite scores report the level and severity of inattention, hyperactivity and impulsivity compared to other people of the same age and gender.

Quotient® Test for ADHD
Measure
Pre-Medication
percentile
On medication
percentile
Post iLs, no medication, percentile
Number of Shifts: measure of how many times a change in behavioral states occurs over the course of a test.
14
48
97
Attentive: 30-second blocks in which subjects performed with a very high level of activity.
27
42
94
Impulsive: blocks when subjects performed better than chance, but made a significant number of commission errors.
40
22
97
Distracted: blocks when subjects performed better than chance, but missed a significant number of targets.
43
99
74
Also remarkable were the differences in T's scores on the iLs Checklist, pre- and post-iLs, in all categories (full checklist details available here).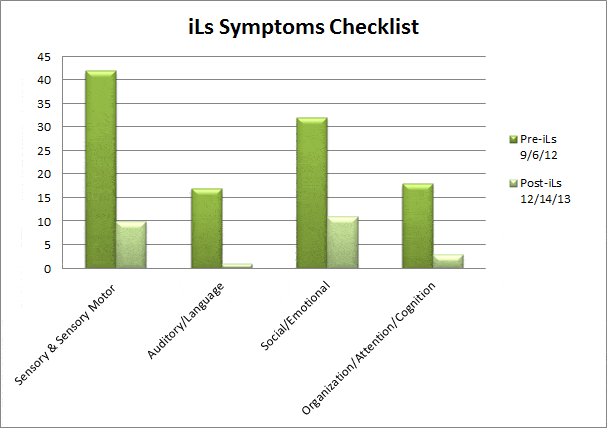 It should be noted that T had significant changes in emotionality during the Total Focus Program. While doing the Sensory-Motor Program, the parents reported a dramatic decrease in his anger and irritability. Also, T noted that he was sleeping better. At one point during this phase, T walked in the office and mumbled under his breath: "Dr. Andi, I hate to admit this to you, but I think iLs is working."
"T" walked in the office and mumbled under his breath: "Dr. Andi, I hate to admit this to you, but I think iLs is working."
During the Concentration and Attention Program, T was still on medication. Though his attentional issues seemed to improve, the improvements weren't enough for him to be off medication. At this point, T became frustrated thinking that he would never be off his meds and emotional arousal was higher. During the Reading and Auditory Processing Program, T's anger re-emerged; though mother noted that he was still quick to get angry, it ended more quickly and he would apologize.
Conclusions and Recommendations:
Clearly, T's auditory issues played a significant role in his ADHD symptoms but had never been identified prior to discussing iLs with the family. His ADHD related issues were noticeably resolved after the completion of the Reading and Auditory Processing Program and T was taken off his medication and re-tested by the pediatric neurologist two months after completion of that program. As T completed the Optimal Performance Program, it became evident that what was left of T's anger had more to do with family dynamics. This was addressed by helping the parents create more structure and good limits and consequences for T's inappropriate expression of anger. Although the parents had worked on these skills prior to iLs, they tended to back off from enforcing rules consistently in an effort to avoid T's emotional reactivity. Also, his mother was able to acknowledge that T's anger tended to shut her down as it reminded her of her own emotionally abusive family.
Comments by Ron Minson, MD, iLs Clinical Director:
This case has several features worth noting. I am pleased to see iLs being used in a traditional psychotherapy practice as I found it to be an invaluable tool, facilitating insight, awareness and motivation to change, in my own practice.
Co-diagnoses are quite common with ADHD. The auditory processing issues uncovered were likely contributing to his attention problems, a common finding. Behavioral problems are also a common accompaniment with ADHD. The right frontotemporal lobes are known to be underactive in ADHD, as revealed by brain scans.  The pre-frontal lobes also show under activity, and are involved in emotional regulation and executive function, such as impulse control, planning, reasoning and attention. iLs has considerable input into these areas. The combined family therapy with iLs proved to be a valuable combination.
For those who are interested in the neurophysiology of ADHD, I have a few comments.  As mentioned, all brains scans show a lack of energy or hypo function in the right fronto-temporal region. However, it is important to recognize that this region receives activation via the dopamine pathways from the basal ganglia – therefore, the frontal lobes are hypoactive due to lack of input and dopamine from the basal ganglia – another example of the importance of subcortical function in regulating cortical and cognitive function. The bone conduction and Playbook activities have input to the basal ganglia, accounting for the improvement in attention in many people, not just those with ADHD.