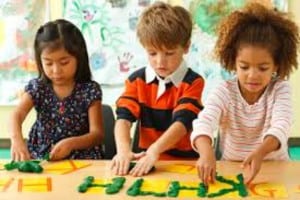 Young children's brains are wired to learn through play and exploration. Although discovery-based learning—a learning style that works with children's development—is validated by a number of recent studies, education in the United States is heading in the opposite direction. Early childhood education is becoming dominated by formalized, teacher-led classroom instruction. The shift towards a didactic classroom for children as four-years-old may hamper long-term academic progress.
Federal education initiatives like No Child Left Behind, Race to the Top, and the new Common Core standards have led to teacher-based instruction for younger students. The idea behind these programs is that increased classroom instruction will prevent young students from falling behind and will reduce the achievement gap in subjects like reading and math. Children from poor or minority households typically perform worse in school than affluent and white peers. These programs are also meant to reduce a global achievement gap, one between the United States and other developed nations.
The achievement gap is a real problem. Unfortunately, teacher-led classrooms for young children are not the solution. This educational strategy is a "profound misunderstanding of how children learn" says Nancy Carlsson-Paige, professor emerita of education at Lesley University. "I've seen it many, many times in many, many classrooms—kids being told to sit at a table and just copy letters. They don't know what they're doing. It's heartbreaking."
Mounting evidence suggests that academic-style instruction in early childhood is not beneficial for long-term achievement:
A 2009 study assessed 400,000 15-year-olds in 15 countries and found that starting school at an early age provided no advantage.
A follow-up study conducted in 2012 demonstrated that children who started school at age five had lower reading comprehension skills than children who started school later.
A study from the University of North Florida followed the academic performance of children who attended preschool programs that used child-initiated learning, academically-oriented learning, or a combination of both. By the end of fourth grade, children who had received didactic instruction in preschool had significantly lower grades than children who learned through play.
It is critical for all families to have access to early childhood education programs, but children need programs that work with their natural cognitive development. Children who learn from lectures may not grow up to be the creators and explorers that the future needs.
This research was reported by The New York Times.
Previous news in education: