Multi-sensory program for improving brain function, interconnectivity and strength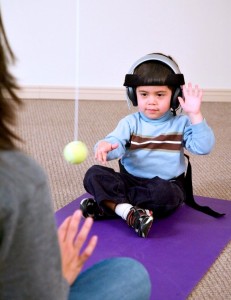 Integrated Listening Systems –or iLs– was born in 2007, after Dr. Ron Minson, Kate O'Brien Minson and Randall Redfield, realized that by combining  sound and movement therapies, they could get even more effective results for their patients. Over the next six years, iLs trained more than 7,000 professionals, including clinicians and educators from over 30 countries.
The iLs therapy and programs were developed based on years of scientific research and experimentation, and they continue to evolve thanks to the feedback from the professionals implementing them, which supports the development of new products and ways of improving the therapy.
Using filtered music and movement to improve brain function
A concept called Neuroplasticity, which is the ability of the brain to change and adapt in response to stimulation, is the base of our programs. Just as we can train our bodies to become stronger and fitter, iLs provides gentle and specific stimulation through filtered music to activates the neural pathways, training the brain to process sensory, cognitive, and emotional information more effectively.
The music program is loaded on an iPod paired with special headphones that deliver it through both air and bone conduction to the cochlea and vestibular systems simultaneously engaging in visual, vestibular, and motor exercises. The activities are fun and can be customized for all ages and skill levels.
The listening programs include classical music that has been acoustically modified to provide enhanced or filtered signals in certain frequencies, as specific frequencies are believed to be correlated to certain brain functions.
Benefits of iLs therapy
There are many well-documented clinical reports and case studies featuring the beneficial results of iLs therapies in people of all ages. The scope of applied treatments are varied but not limited to:
Professional Training
iLs hosts online and in-person trainings to guide professionals through its methodologies and equipment. Most trainings are approved for continuing education credits, and professionals leave iLs trainings certified to implement iLs in their own practice.
For more details on iLs therapy, please contact us through our online form or call 303-741-4544. We'll be happy to help you!