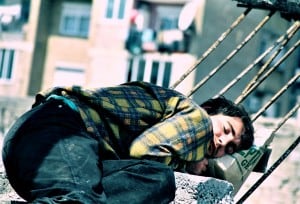 Do older adults have more sleep problems? According to a new study from the University of Chicago, although older adults report problems with sleep, they get the recommended amount of sleep. Other studies suggest that nearly half of older adults experience symptoms of insomnia like difficulty falling or staying asleep, waking up too early, and not feeling rested during the day. However, these new findings suggest that there is a discrepancy between older adults' perceived and actual sleep habits. The results indicate that other quality of life factors may be to blame for not feeling rested.
Data for the study came from 727 participants in the National Social Life, Health and Aging Project. The participants were randomly selected to join an "Activity and Sleep Study." Participants completed a self-administered booklet that contained questions about sleep experiences like "How often do you feel really rested when you wake up in the morning." The participants also wore an actirgraph—a device worn on the wrist that monitors sleep and activity levels—for 72 hours. The researchers compared the actigraphy data with what the participants' reported in their handbooks.
Many of the participants reported problems sleeping, but the actigraphy data indicated that the participants' sleep duration was within the recommended parameters. The actigraphy data revealed an average sleep duration of 7.9 hours and an average total sleep time of 7.25 hours. Despite this, 13 percent of adults reported rarely or never feeling rested in the mornings, 30 percent reported problems with waking up at night, and 12 percent reported problems with waking up too early.
Although 13 percent of participants reported problems with waking up at night, the actigraphy data showed that participants who woke up frequently actually slept more hours per night. The researchers postulate that there may be something other than sleep duration that affects feeling well-rested.
"Our findings suggest that reports of what seem like specific sleep problems from survey questions may be more accurately viewed as indicators of general problems or dissatisfaction with sleep that may be due to other issues in their lives affecting their overall well-being. These survey questions and actigraphy may measure different aspects of sleep experience," study author Linda Waite, sociology professor at the University of Chicago and director of the Center on Aging at NORC at UChicago.
This research is published in the Journals of Gerontology.
Previous news in sleep: