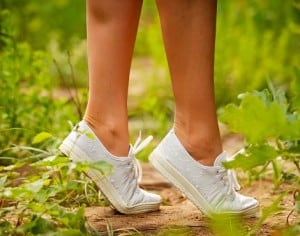 Taking a walk is a great way to get some exercise and, according to new research, aids the brain in regulating emotions. Stanford University researchers found that people who walked in nature, rather than on a busy city street, had reduced brain activity in a brain area associated with depression and negative emotions. The findings contribute to a growing body of research suggesting that urbanization is related to increasing prevalence of mental health problems.
The researchers evaluated two groups of people who walked for 90 minutes. One group walked in a grassland area that had trees and shrubs. The other group walked along a four-lane road in a high-traffic area. Before and after walking, the participants completed questionnaires. The researchers measured the participants' physiological state (heart and respiration rates) and performed brain scans.
Although there was little physiological difference between the two groups, there was a significant difference in brain activity after the walk. The participants who walked in nature had, compared to the participants who walked near a road, decreased activity in the subgenual prefrontal cortex, a brain region that is active when a person has repetitive, negative emotional thoughts. The findings demonstrate that experiencing nature impacts at least one aspect of emotional regulation.
"These results suggest that accessible natural areas may be vital for mental health in our rapidly urbanizing world. Our findings can help inform the growing movement worldwide to make cities more livable, and to make nature more accessible to all who live in them," concluded study co-author Gretchen Daily, the Bing Professor in Environmental Science and senior fellow at the Stanford Woods Institute for the Environment.
This research is published in the Proceedings of the National Academy of Science.
Previous news in emotional regulation: