Courtesy of the Safe & Sound Protocol Podcast and iLs Australia
Learn how the Safe and Sound Protocol (SSP) can help support EMDR therapy.
In this episode of the Safe and Sound Protocol Podcast, host Joanne McIntyre speaks with Dr. Sarah Schubert, a clinical psychologist working with children, adolescents, adults and families. Sarah is an EMDRIA Approved Consultant and a trained and certified SSP provider, and uses the therapeutic program in addition to a Polyvagal-informed approach to support her EMDR work. As a consultant and trainer with 12 years of experience, she specializes in the treatment of trauma, specifically using EMDR therapy, and innovatively integrates many therapeutic approaches together.
Sarah has a private practice, and previously worked with complex mental health issues in community treatment settings. She has been published in the area of trauma therapy and ADHD, and completed her doctoral dissertation on EMDR for the treatment of post-traumatic stress disorder (PTSD). She has won national and international awards for her research on EMDR and PTSD, and is an accredited EMDR trainer.
Click play above to listen to how Sarah blends the science of safety and connection.
Key Topics Discussed in This Episode
What is EMDR?
Polyvagal Theory, EMDR and co-regulation in healing trauma
Unravelling the Preparation phase of EMDR
Understanding PTSD challenges, including emotion regulation, self-compassion and pervasive, negative self-beliefs
Understanding how "shutdown" and "calm" can look like, and the importance of knowing the difference
How "shutdown" blocks the memory processing of trauma and the importance of building safety
The Polyvagal gift that provides hope that we can rewire our nervous system for love, safety and connection
Safety through connection and memory reconsolidation
Sarah's personal experience with the SSP
Why the SSP is an important therapy to support EMDR
---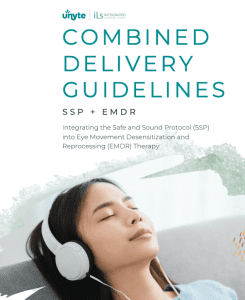 Combined Delivery Guidelines: SSP + EMDR
Download a free excerpt and learn how the SSP can empower therapists to support safety in Phase 2 of EMDR.
By integrating SSP, EMDR therapists are equipped to help cultivate a foundation of safety at the nervous system level, giving their client greater capacity to engage in re-processing and therefore, healing.
---
How the SSP supports EMDR therapy
Eye Movement Desensitization and Reprocessing (EMDR) therapy is an evidence-based modality that has been shown to be effective in supporting clients who have experienced trauma, or who present with conditions including post-traumatic stress disorder (PTSD), anxiety and depression.
The EMDR International Association (EMDRIA) breaks down EMDR therapy into eight phases:
History and Treatment Planning
Preparation
Assessment
Desensitization
Installation
Body Scan
Closure
Re-evaluation
In Phase 2: Preparation, the therapist works with the client to provide psychoeducation and prepare techniques together to help the client cope with what may arise throughout therapy. A key variable to the success of EMDR therapy hinges on access to adaptive information and experiences of safety, but for those with experiences of complex trauma, typical exercises of Phase 2 can be painfully inaccessible.
Developed by Dr. Stephen Porges, author of the Polyvagal Theory, the Safe and Sound Protocol (SSP) is a non-invasive, acoustic vagus nerve stimulator designed to reset the nervous system and return it to safety, allowing for better client engagement when used alongside other therapeutic modalities such as EMDR therapy.
---
About the Host
Joanne McIntyre is an Occupational Therapist with over 30 years of clinical experience. She completed her Master's of Science, majoring in psychology, while residing in the U.S. for 23 years, during which she founded a therapy practice including speech-language pathologists, occupational therapists and psychologists, in addition to being an instructor for Integrated Listening Systems.
Joanne pursued specialty training in various clinical interventions and treatment programs that identify and address the underlying neurological causes of state regulation, learning and behavior, versus focusing on symptomology. Her training included Board Certification in Neurofeedback and Heart Rate Variability Biofeedback training, Neurodevelopmental (NDT), SIPT Certification, Interactive Metronome and Advanced iLs Pro training, EMDR, and Intro IFS training.
Joanne returned to Australia in 2015 and is Clinical Director of Integrated Listening Australia, providing practitioner training and clinical support to clinicians and families in the SSP, Focus System, Pro-System and iom2. Joanne commenced PhD studies at La Trobe University within the School of Psychology and Public Health, investigating the neurobehavioral underpinnings of the Safe and Sound Protocol intervention developed by Dr. Stephen Porges, supported by the Olga Tennison Autism Research Centre (OTARC).