Evidence Based Interventions for Autism Spectrum Disorders
We all want to reach our full potential.
Unyte-iLs programs use specially-treated music, movement and cognitive activities so we can get there.
Many children and adults beginning these programs are close to "fight or flight" response. In that state, we can't process other information or learn new skills. (Think of how well you function during a temper tantrum, when you're hungry or really excited.) The music delivery gently signals our bodies' relaxation response. The result is increased calm and self-regulation. Once our emotions are regulated, we can communicate, interact, learn and perform new tasks.
This addresses the development of whole brain/body integration through a staged developmental approach, starting with the fundamentals of sensory integration and then extending through more complex cognitive functions, including language, self-expression, and social skills.
Interested in learning more about how Unyte-iLs programs can help spectrum disorders?
Unyte-iLs programs are based on the fact that we can change our brain – essentially re-wiring it through specific and repeated stimulation, a concept known as neuroplasticity. As in building strength and endurance with physical exercise, we are able to build neurological pathways and synaptic activity at any age.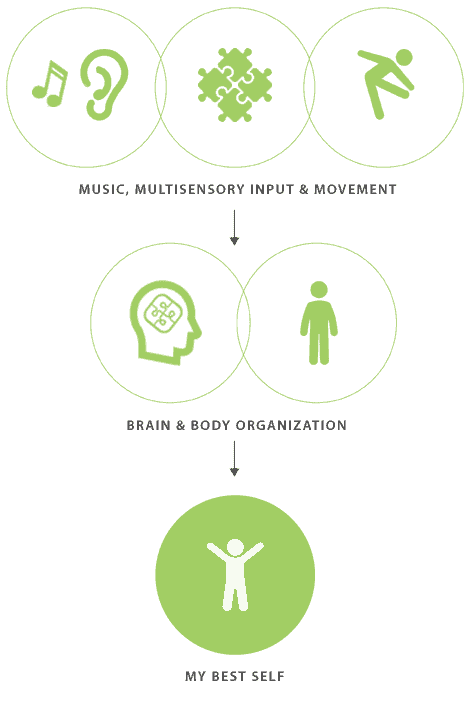 The Focus System has been an integral part of our practice. It has enriched and enhanced the entire therapy process – a powerhouse when combined with sensory integration. Using the auditory and vestibular channel through sound therapy has been the missing link to integrating and organizing the body. The results have been phenomenal!

Sensory Self, CT

This specific system has helped my teen feel more confident in addressing and improving his own challenges.  If the Focus system had no other benefit, that one reason would be worth using the system entirely!

So grateful that the Focus System is always here. In my house. Ready when my son needs it. And the Focus System ALWAYS makes a difference and fills me with so much hope and excitement for my son's future. What the Focus System has given to my son is almost unexplainable--but what it gives a PARENT is hope. Hope that you never thought you'd feel or know as a parent. THANK YOU!!!
Unyte-ILS Programs & BEHAVIOR BASED INTERVENTIONS
Many ABA trained therapists implement iLs alongside ABA. The benefits of this combination are evidenced by both immediate (better quality ABA sessions) and long-term results (social/behavior change is accelerated by improved regulation and processing).
Unyte-ILS Programs & RELATIONSHIP BASED THERAPIES
DIR/Floortime, Relationship Development Intervention (RDI) and SCERTS are excellent complements to iLs' approach. iLs headphone equipment can be worn simultaneous to these approaches with children over 2 years of age.
RESPIRATORY SINUS ARRHYTHMIA AND AUDITORY PROCESSING IN AUTISM
Stephen W. Porges, Matthew Macallaio, Shannon D. Stanfill, Kimberly McCue, Gregory F. Lewis, Emily R. Harden, Mika Handelman, John Denver, Olga V. Bazhenova, and Keri J. Heilman
International Journal of Psychophysiology, 2013 Jun; 88(3): 261-270
The study showed that auditory processing and state regulation improved following the intervention.
REDUCING HYPERSENSITIVITIES IN AUTISTIC SPECTRUM DISORDER
Stephen W. Porges, Olga V. Bazhenova, Elgiz Bal, Nancy Carlson, Yevgeniya Sorokin, Keri J. Heilman, Edwin H. Cook, and Gregory F. Lewis
Frontiers in Pediatrics, 2014; 2:80
In this peer-reviewed study, children with Autism Spectrum Disorder (ASD) who used an early version of the SSP experienced significant improvements in emotional organization, listening, spontaneous speech and hearing sensitivities.
UNYTE-ILS HOME PROGRAM AUTISM STUDY
Theresa May Benson, PhD, OTR/L
Summary: Results found significant gains across multiple subjective and objective outcome measures in the following areas: social skills, emotional regulation, number and severity of autistic behaviors, and overall functional adaptive behavior skills.

Interested in learning more about how Unyte-iLs programs can help spectrum disorders?
Our consultants are here to help.