When one member of your family isn't sleeping, it can affect everyone else. Try the Dreampad to address sleep issues caused by autism and anxiety and improve your family's sleep.
The Dreampad™ delivers music through gentle, calming vibration which only you can hear. This process brings about a relaxation response from the body and mind which has been aptly described as a "massage to the nervous system."
Reduce anxiety
Improve sleep
Address auditory sensitivity
Our Customers Say…
My daughter sometimes has a hard time to get to sleep, with lots of tossing and turning during the sleep, even nightmares... She started using the Dreampad just last night and it looks great, as she fell asleep right after mumbling "this is so beautiful mmm..."

I purchased the Dreampad for my 11 year old with sensory issues. It has made a drastic difference in how she sleeps (no more night terrors) and she is waking up easier. She calls it her music pillow. We have been using it for about a month now and do believe it is worth the cost. - Tonya Ainsworth

The Dreampad has consistently improved the sleep of every patient who has used it. There has also been symptom reduction in patients suffering from PTSD, anxiety, depression and various childhood disorders. The Dreampad is easy to use and convenient as its thin profile fits into a suitcase for travel. The new lower price makes it more affordable for my patients.

I run a small clinic and have quite a few clients with sleep and anxiety issues. The Dreampad has helped tremendously with prep for in clinic therapy as well as addressing sleep issues interfering with cooperation and performance. Have seen some amazing results.

My 5-year-old son LOVES his Dreampad! We have noticed a decrease in his auditory sensitivity since we started using the Dreampad. He used to refuse to use public toilets because they are so loud. Today he barely notices.
30-Day Risk-Free Trial
Sleep on it for 30 days, and if you're not sleeping better, we will take it back and give you a full refund.
The Science Behind the Dreampad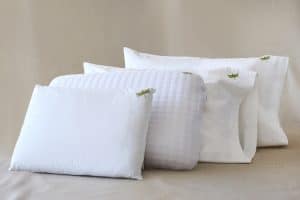 Every time we speak we hear ourselves in two way: externally and internally. Our voice carries through the air waves and enters our outer ear; simultaneously, the vibration from our larynx is carried by the body (primarily our bones, which are excellent conductors) to the inner ear. Have you ever noticed that your voice sounds different when you're hearing it played back in a recording? The difference is because you're not getting the resonance of the internal sound you receive when you speak.
The Dreampad technology replicates this natural process by playing music through transducers which convert the music into a vibration that travels internally to your inner ear.
Read More
One positive aspect of this is that you're not disturbing others in the room when you're using the Dreampad. More importantly, as the vibration moves toward the bony area surrounding your middle and inner ear, it is triggering your body's relaxation response. Clinical data by researchers suggests that the calming effect of the Dreampad is a result of the vibrational music stimulating the vagus nerve, which in turn activates the parasympathetic nervous system (PNS). Our PNS helps us regulate stress – if we're in a state of hyper-arousal, or elevated stress, the PNS is the part of our nervous system which brings us down to a calmer place where we can relax and fall asleep.
The Dreampad has been tested with various populations, including adults, children, war veterans with PTSD, children with autism and sensory processing difficulties (see our research page). More studies are being developed to determine its effect on the autonomic nervous system as well as to identify specific groups who might benefit from its calming influence.
Dreampad Research
A SLEEP INTERVENTION FOR CHILDREN WITH AUTISM
Sarah Schoen, PhD, OTR, Assistant Research Director, SPD Foundation
Abstract: The aim of this study was to examine the immediate, short-term effects of Integrated Listening Systems' (iLs) Dreampad on the sleep behaviors of children with Autism Spectrum Disorder (ASD). In addition, this study examined the effects of changes in sleep patterns on parent and family measures of stress and quality of life.
EFFECTIVENESS OF TWO NON-PHARMACOLOGICAL INTERVENTIONS FOR PEOPLE WHO EXPERIENCE DISORDERED SLEEP BUT DO NOT HAVE A MEDICAL PROBLEM CAUSING THE SLEEP DISTURBANCE
Sharon A. Gutman, PhD, OTR, FAOTA, Associate Professor, Columbia University Medical Center
Summary: The Columbia University Medical Center study has compared the effectiveness of the Dreampad™ and the iRest yoga meditation method in a 2-week intervention period with healthy adults ages 25-65.