PROFESSIONAL SSP FACILITATION
Focus on Safety and Relationship
As a qualified Safe and Sound Protocol (SSP) certified professional, you can access a digital SSP subscription to simplify, control and track SSP facilitation, and improve the overall experience between you and your client. Simple digital tools empower you to focus on supporting and guiding your client with an emphasis on coregulation and engagement. The "safe" you provide is just as important as the "sound" in your clients' path to positive outcomes.
To access the SSP subscription and facilitate the SSP in person or remotely, you must be a qualified professional who is trained and certified in the SSP.
Help More Clients, Easily and Seamlessly
Accessible

: listen to the SSP playlists anywhere, anytime on any Android or iOS device

Flexible:

facilitate the SSP in clinic or remotely using your own or your client's device

Control:

create and manage client accounts and invite clients by email

Customizable:

assign who can listen to what playlists, and for how long they have access

Attuned

: view, track and accompany your clients' listening; gain insights from their experience

Easy:

intuitive app makes it easy to start, stop and pause listening

Limitless: create multiple client accounts to help many clients simultaneously
Interested in learning more about the SSP?
Our consultants can help you decide if the SSP is right for your clients.
Digital Facilitation
The SSP is available through an online and app-based platform (available on Android and iOS) that empowers professionals with a simplified approach to access, control and track delivery with clients. This digital SSP delivery enables you to reach and support more clients simultaneously while focusing on co-regulation and your client relationship. As Dr. Porges says, the "safe" is as important as the "sound." 
With digital delivery, the SSP can be delivered either in-clinic or remotely, and is often used in conjunction with other modalities to help accelerate or enhance therapeutic results. Unyte-iLs enables professionals with specially-developed Remote Guidelines, a Remote Certification Program and SSP Pathways Guidelines, which all help lead to improved client outcomes.
SSP Delivery is made up of two components:
MyUnyte
Manage your Unyte-iLs programs in one place
Accessible via your web browser (Google Chrome, Firefox, etc.), MyUnyte is your main online hub that allows you to manage your clients and track their progress, including creating and managing client accounts, assigning programs, tracking client listening activity, and accessing resources.
The Unyte-iLs App
Digital delivery of the Safe and Sound Protocol
The App is the delivery mechanism for the SSP music, enabling your clients to access assigned programs and easily manage their listening directly from their Android or iOS phone or tablet.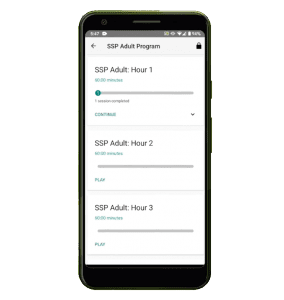 Confidence in Professional SSP Facilitation
The SSP Assessment Library supports SSP Providers with downloadable scales and measures to assess change and progress. These assessments are not mandatory but have been developed by Dr. Porges and his research colleagues specifically for the SSP and are sensitive to the autonomic state changes that may result from the SSP.  
All of our manuals and guidelines have been developed with the input of clinical professionals and the oversight of Stephen Porges, Phd, Unyte's Chief Scientific Advisor, Ron Minson, MD, our Clinical Director, and Deb Dana, LCSW and Unyte Advisor.
The Unyte-iLs Intake Form is offered as a tool to help you gain greater insight about your client and their body/brain system. It is strongly recommended that you use this Polyvagal informed tool in addition to a medical history and your usual intake process.

Remote Delivery Guidelines have been developed to help ensure Providers are supported and informed to help facilitate the best SSP experience for their clients.
When you subscribe to the SSP, you can access the SSP Intake Form and Remote Delivery Guidelines through your MyUnyte account.
Interested in learning more about the SSP?
Our consultants can help you decide if the SSP is right for your clients.
Experience Full Sound Immersion
Delivering SSP through the Unyte-iLs app requires the use of appropriate headphones and devices. Our headphone recommendations are as follows:
Over-the-ear (circumaural) headphones for their enclosed nature and the immersive sound experience are recommended

On-ear headphones and earbuds are not recommended

Avoid noise canceling headphones
See headphone recommendations for children and adults. You can purchase your own, or simply purchase them through us.
MyUnyte: Training, learning & support all in one app
MyUnyte isn't just your control center for setting up and managing your client accounts. It's a one-stop shop to easily access SSP training, learning and support resources for you and your clients. This virtual library continues to grow. Here are some of the helpful resources included:
Facilitate:

SSP Remote and Pathways Guidelines

Assess:

Recommended assessments

Join:

SSP Q&A Registration 

Support:

SSP Case Consultation Request Form

Learn:

SSP manuals available for download

Learn:

E-learning platform access to review SSP Training content

Share:

Case Story Submission Form
ONGOING SUPPORT
SSP Providers are invited to and given access to weekly SSP Information Forums to get an overview of digital SSP facilitation, and monthly Q&A webinars where hosts and experts across different healthcare professions share their experiences and clinical applications of SSP within their practice.
SSP Testimonial:
Ana do Valle, OTR, SEP
Ana do Valle is a sensory-based occupational therapist who combines the SSP with Somatic Experiencing in her trauma therapy with children and their families, as well as adults.

LEARN MORE ABOUT THE SAFE & SOUND PROTOCOL